Responses to November 28th, 2020 Annual General Meeting
---
How do multiple members of a household register and vote?
To register, each member of the household should go to the NMCU's website and select Pre-register for the 67th AGM.
Click here to register for the 67th Annual General Meeting
To register, please ensure that you have the following information so that your registration can be completed:
Your Neal & Massy Credit Union Membership Number. If you do not have your membership number, please email us at 67agm@nmncu.coop for assistance.
A copy of your ID (passport, drivers permit, national identification) to upload onto the portal. If you are under 16 and you do not have a picture ID, you can upload a copy of your birth certificate.
If you are under 16 and do not have a bank account, you can upload your parent bank information as proof of address.
Pay slip and/or job letter is not required for registration
If you require any assistance, please email 67agm@nmncu.coop
To vote:
●        Open a separate browser for each member to log in using the credentials that they would have received from NMCU (The email would have been sent from: Neal & Massy Credit Union AGM)
●        The AGM can be viewed on one device by everyone (using one browser)
When it is time to vote, each member should do so by switching to their respective browser page.  Each member of the household's name will be reflected on their respective browser page

Volume is very low; cannot hear on my laptop
If members encounter this again, please contact the helpdesk at 67agm@nmncu.coop
Why was the registration so difficult?
NMCU's aim was to balance the registration process while ensuring membership identity and confidentiality.  This verification process required members to upload identification documents.
We have made changes to facilitate the upload of photos and eliminated any upload requirements not associated with the AGM.
When will the phone lines be fixed?
Interim telephone contact facilitation steps have been kicked off with the implementation of two temporary mobile numbers (shown below) that will either be answered or a call will be returned within 1-2 working days.  The Telephone Upgrade System implementation plan will be progressed during 1st Quarter 2021. 
●        332-NMCU (6628)
●        339-NMCU (6628)
Two (2) Customer Service Representatives have been assigned to manage incoming calls and to:
-         log call requests
-         direct requests to action points
-         actions are noted and constantly updated by all parties
This system will not facilitate call transfers. It will facilitate:
-         message logging
-         returning calls to members by Service Helpdesk staff when required
-         updating of CSRs on status of requests by action point staff
-         logging of all updates | close off actions
-         generation of a daily report on all outstanding requests daily
Information on the temporary cell phones has been communicated via print, direct mail and social media channels.
Can a member join only the Neal & Massy Affordable Care (NMAC) medical plan without the life insurance?
Yes, A member can join the medical plan without opting for life insurance.
A few NMAC highlights:
●        Comprehensive Medical Insurance: Claim for Hospitalization Expenses, Doctor's Visits, Vision Expenses, Maternity Expenses and much more
●        Life Insurance up to your 70th birthday 
●        Persons over 65 years can access Health Insurance
●        Add your loved ones to your policy
●        Complimentary national discount card
●        Claims paid directly to your Bank Account
●        Please visit the NMCU website for additional information.
For more information contact RMS at 625-1091 ext. 136 or 189 or email nmcu@rms.co.tt
Can corrections be made to the 2019 Annual Report?
Yes, we can and have made corrections to the annual report. 
On the NMCU website, there is an original 2019 Annual Report and an updated version which reflects corrections.
Is interest now being calculated differently in the new system and what is the impact?
Interest is calculated on an amortized basis in both the prior and  the current systems.  The instalment and total repayment due are the same (once the instalments are made in accordance with the agreed loan amortization schedule)
The difference between the both systems is that in the prior system, the amortization took place on a monthly basis versus now on a daily basis in the new system.
What can the credit union do to increase membership?
NMCU will enhance its Membership Strategy to engage individuals to join the credit union via a number of channels: 
●        Existing membership
●        Staff
●        Board of Directors and Committees
●        Liaison Officer network
Additionally, we will make the membership application process more accessible to persons wishing to join via downloadable application forms which will be available via our website.
How can I access Online Banking?
What causes a delay for transactions to appear on online banking?
For members who may be experiencing a delay in transactions appearing on online banking, please contact us at memberservices@nmncu.coop or via our mobile numbers
What is the reason for the jump in legal expenses in 2019 of $322,727 opposed to 2018 of $177,500?
This relates to loans in the Credit Committee report and represents an increase in members' loans for Legal Expenses in 2019 versus 2018.
What will NMCU do to ensure that there is a quorum for the re-convened meeting?
NMCU will implement the action plan to schedule and reconvene the adjourned 67th AGM.  The registration process will be simplified (while maintaining members' privacy and security) and members who have already registered for the AGM on November 28th 2020 will not have to register a second time. 

We will also act in accordance with  Bye-Law 25 (a):                                        

a)      If within thirty (30) minutes after the time fixed for any general or special general meeting, other than a special general meeting convened at the request of the Commissioner, the members present are not sufficient to form a quorum, such meeting shall stand adjourned to a date not less than fourteen (14) days thereafter and members shall be notified accordingly at least seven (7) days before the date thereof, such notification to be made in the same manner as for a general meeting. The decisions of the adjourned meeting shall be final, conclusive, and binding on all members irrespective of the number of members present not constituting a quorum.
Are there any plans or members to access affordable business loans?
NMCU currently grants loans to members are entrepreneurs and who use such funds to support their business operations.  We will continue to include options in our loan program,  ensuring that we balance the needs of our membership and our risk profile. 
Will the reconvened AGM be communicated via print and electronic media?
What are the plans for the other NMCU buildings?
The property on #24 Borde street was purchased and occupied as a Head Office in 2001. The building soon exceeded it useful life and further renovation and maintenance cost could not be justified. Also, the limited single lot land space could not be effectively optimized to meet the then current and future needs of the credit union membership.
Today, as shown in the location map below, the Credit Union and by extension you, are the owner of the following properties:
#22 Borde street (Eastern side of Borde Street) - Property is South of #24 Borde street
#15-17 Borde street (Western side of Borde Street) - New Head Office building
The two (2) lots on #22 and #24 Borde street are prime property that is adjacent to the New Head Office building and this is a value add.
The purchase of all three (3) properties was financed internally.
Our investment decision for the purchase of additional properties at #15-17 Borde street and #22 Borde street was driven by the medium to long term need for:
·         Constructing a modern headquarters building to service the current needs of the credit union membership;
·         Flexibility was needed for expansion of parking; and
·         The Credit Union needed to explore/realize future income earning potential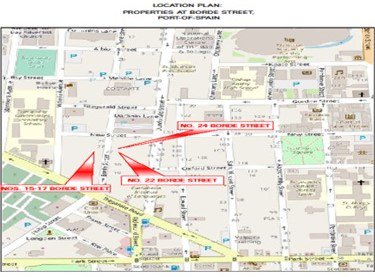 The Neal & Massy Credit Union was established April 25th, 1953 and our current membership exceeds 10,791. The Board of Directors and management continue to manage all assets and investments, taking into consideration the current business needs and environment while keeping its eyes on the organization's future economic viability and sustainability.
The future utilisation of investment items 1 and 2 listed above will require a detailed needs assessment, competent financial analysis and forecast to make an informed decision. A Best Use Analysis will be conducted to determine the way forward.