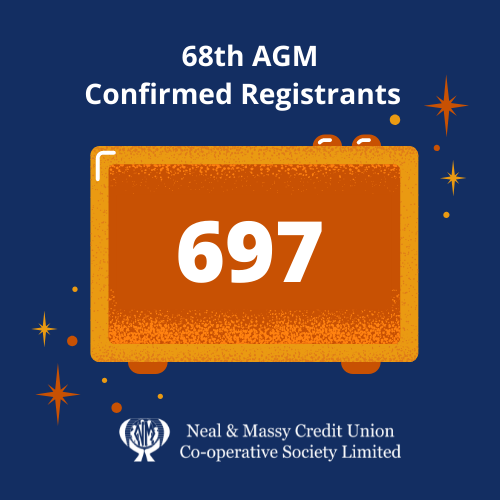 While we were looking forward to hosting the 68th Annual General Meeting (AGM) on April 10th, 2021, we regret to inform that it will be postponed to a later date due to circumstances beyond our control.

We sincerely apologize for postponing our AGM on such short notice and for the inconvenience this may cause. A new meeting date will be scheduled as early as possible to safeguard good governance.
Our AGM date formal announcement will provide at least fourteen (14) days Notice to all members. The Notice shall be in a conspicuous place at the registered office, published in the daily newspapers and highlighted in all the Society's social media platforms. Read more.
To register: 
Signup (nealandmassycu.coop)
Instructions on how to register for the 68th AGM
/documents/87/The_68th_AGM_Process.pdf
Below is useful information form the 68th AGM:
Resource Library for the 68th AGM
NMCU Amendment of Bye-Laws - 68th AGM

Download Co-Operative Societies Act 
Submit Questions to agm@nmncu.coop
Click here for 2021 Board of Directors Nominees
Click here for 2021 Credit Committee Nominees
Click here for 2021 Supervisory Committee Nominees