NOTICE OF NOMINATIONS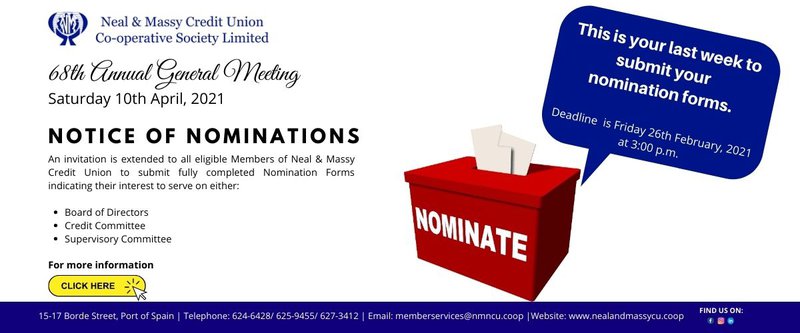 An invitation is extended to all eligible Members of Neal & Massy Credit Union to submit fully completed Nomination Forms indicating their interest to serve on either:
Board of Directors
Credit Committee
Supervisory Committee 
Nomination Forms along with rules/guidelines can be collected at the Credit Union's Office #15-17 Borde Street, Port of Spain, Monday to Friday between the hours of 8:00 a.m. to 03:00 p.m. or easily downloaded and printed from the Credit Union website.
Completed nomination forms and all supporting documents must be in a sealed envelope. State the position you are seeking nomination for on the front of the envelope, i.e., the Board of Directors, Credit Committee or Supervisory Committee. 
NO NAMES ON ENVELOPES PLEASE! 
The nominee must also address the envelope to Madam Chair, Nominating Committee, Neal & Massy Credit Union, 15-17 Borde Street, Port of Spain. Deposit the sealed envelope(s) into the lockbox labelled 'Deposit Nominee Applications Here', located in the Credit Union office's reception area, on or before the deadline of 3:00 p.m., Friday, February 26th, 2021.
Nominees will be interviewed on Tuesday 2nd March 2021, time and location to be advised. The orientation and training session will be facilitated by the Commissioner for Cooperatives, Cooperative Development Division – Training Unit is tentatively scheduled for March 6th 2021. Nominees must attend this session prior to the Annual General Meeting.

 LATE APPLICATIONS WILL NOT BE ACCEPTED
Download Nomination Guidelines here
Download other resources for the nomination process
Download Code of Conduct Policy - Board of Directors and Committee Members