October is here, and with it comes the excitement and camaraderie of Credit Union Month. Neal and Massy Credit Union proudly presents a month teeming with events, each designed to celebrate our members, the community, and the foundational values of credit unions.
---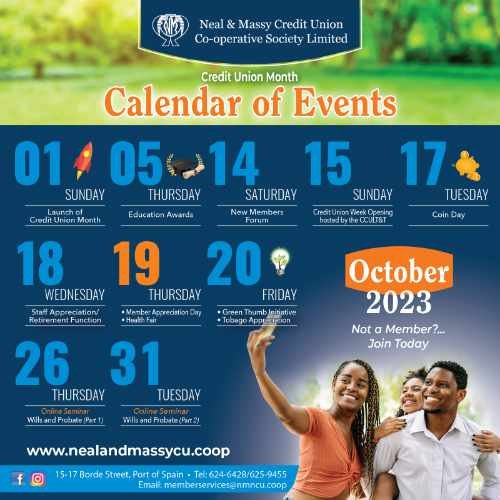 Sun, Oct 1 - Launch of Credit Union Month: The month commences with a flourish as we inaugurate Credit Union Month. Join us to set a vibrant tone for the upcoming events.
Thur, Oct 5 - Education Awards: Highlighting the importance of education, we'll be recognizing and supporting our members' academic pursuits through our esteemed Education Awards.
Sat, Oct 14 - New Members Forum: A hearty welcome to our newest members! Understand the essence of being part of the Neal and Massy family and uncover the myriad benefits awaiting you. Click here for more information.
Sun, Oct 15 - Credit Union Week Opening hosted by CCULT&T: In collaboration with the Cooperative Credit Union League of Trinidad & Tobago (CCULT&T), we proudly kick off the anticipated Credit Union Week. This is a celebration of unity, mutual assistance, and shared growth.
Tues, Oct 17 - Coin Day: Dive into the world of savings and understand the significance of each coin. Engaging activities and financial literacy sessions are on the agenda.
Wed, Oct 18 - Staff Appreciation/Retirement Function: Our success story is incomplete without our dedicated staff. Today, we express our heartfelt gratitude and bid adieu to those stepping into the golden phase of retirement.
Thur, Oct 19 - Member Appreciation/ Health Fair: You, our members, are the backbone of our Credit Union. This day is all about you – from health checks to wellness advice, we've got it covered.
Fri, Oct 20 - Green Thumb Initiative/ Tobago Appreciation: Emphasizing our commitment to a greener future and expressing our heartfelt appreciation for our Tobago members, this day is packed with environmental initiatives and special acknowledgments.
Thur, Oct 26 - Wills and Probate (pt 1): Embark on a journey to understand the intricacies of wills and probate with our experts in this two-part series.
Tues, Oct 31 - Wills and Probate (pt 2): Continuing from where we left off, ensure you're armed with the essential knowledge to make well-informed decisions about your future.
---
Join the Neal and Massy Credit Union family this October. We are more than just a financial institution; we are a community dedicated to mutual growth, shared dreams, and fostering stronger ties. Let's make this Credit Union Month memorable together.